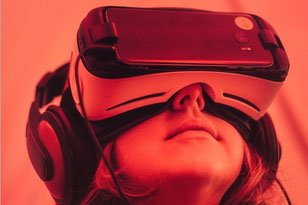 What role does technology and innovation play in the art world? More than you might think. Technology has several interesting aspects in the art field. Especially if you consider that this is an annual two-digit billion-dollar business.
Digital transformation in the art world is still in its infancy. However, artwork registered on the blockchain could trace provenance and limit forgeries in the future. Other technological elements start to merge into art and subsequently become the artwork itself. Augmented Reality (AR) has the potential to enrich the experience for art viewers. The story behind the art work is often hidden to the outsider making the work less accessible for viewers to grasp. What are some exiting examples?
The opportunities usually fit into two camps. The first one: making the art process safer and simpler. The second one: enriching the overall art experience for the viewer. From an innovation and technology aspect, I find both camps equally intriguing. And not only wealthy clients have a strong interest in this passion field.
"Regardless the price tag,
a dollar spent on a forgery is a dollar lost"
Provenance: Real Or Fake?
The majority of art buyers put money down for the love and passion of the art piece itself. At the same time, buyers want to protect their investments. Nobody wants to find out after the fact that the object of appeal is a forgery and hence, not worth the money spent.
Experts examine exclusive and officially auctioned art objects before the art works go on sale. Certificates of authenticity are then matched to their respective objects. Every time a work of art is offered at a top-notch auction, the same verification has to happen again and answer the following questions:
Is the art object the original one?
Does the certificate describe the object it certifies?
Is the certificate authentic itself or a forgery?
Does the art object belong to the person who claims being the owner?
This process is lengthy, expensive, and can never be 100% guaranteed.
It is important to note that the majority of art objects are not sold via auction houses. Rather, these objects are purchased directly through galleries, artists, exhibitions, online platforms, or friends. Through this purchase method, provenance is even harder to track and a deal at the end comes down to trust. Regardless the price tag, a dollar spent on a forgery is a dollar lost.
Imagine a future world where every art object is registered on a blockchain and as such, uniquely identifiable, traceable, assignable, and tradable. The blockchain becomes the neutral, public, immutable, and tamper-proof custodian of everybody – and with traceable history.
To highlight one such example, Chronicled - a San Francisco based startup I was fortunate to meet - does exactly this. Through a unique, identifiable registration and identification process, Chronicled creates trusted identities, data provenance, and automation. A gallery showcase enabled visitors to experience, purchase, and ship new art objects with full provenance history over blockchain, and it doesn't stop there.
Transportation: Is What You See Really What You Get?
Every time a valuable object is transported, you run the risk of the object itself, or a part of it, being altered, removed, or replaced. To avoid such process leaks, high valuable container content is usually certified, signed, and sealed by an attesting notary.
While this has worked well for several centuries, history has also revealed sufficient examples where corrupted processes have led to substantial value losses. In the future, advanced technology could help secure transportation not only for high valuable art, but also for other unique collectibles and luxury goods.
What If Technology Becomes The Art?
Stephan Vogler, a German artist, produces simplistic and immaterial artwork, as he himself states. Every piece of work is an electronic file uniquely registered. Art objects consist of electronic squares and numbers for example. You may own a few pixels and can watch these objects online, but not more.
Other artists such as Yasuhiro Suzuki have created algorithms that mimic natural selection and evolve a painting depending on a user's preference.
Nor of Colton, a computer scientist, created an SW robot called, "Painting Fool," who paints artwork by itself and was displayed at London's Tate Modern museum.
Such efforts might look strange to us nowadays. But if we could travel back only one hundred years from now, we would meet the Russian artist, Kasimir Malewitch. He painted a black square on a white canvas, which seemed bizarre to several experts back then. In 1990, one of Malewitch's famous rectangle paintings sold for $60 million at Sotheby's. Who knows where digitalization in the art world might lead.
"fly through time and visit virtual museums…
dive directly into a picture…
group objects together…thousands of miles apart"
Do Augmented Reality (AR) And Machine Learning (ML) Make Sense?
New technologies allow for the creation of overlays of existing objects. Museum-goers could benefit from having the ability to view the story behind a piece of art in an interactive way utilizing AR technology. This would make such visits not only more enjoyable and interactive for children, but also more appealing for adults who want access to more information through an easy method.
Google moved this a step further through its ambitious "Art and Culture" project. Google effectively digitized ten thousand pieces of art work from all over the world and connected the objects along artists, epochs, topics, geographical locations, and much more. Through machine learning and artificial intelligence artworks were indexed and grouped among different patterns. Today, Internet users can fly through time and visit virtual museums to dive directly into a picture and group objects together, which in the physical world might be displayed thousands of miles apart.
While I am not an art expert, what fascinates me is the bridge between innovation and technology in a passion field such as art. With Art Basel approaching soon – bringing ten thousands of visitors into one location – digitalisation in the art field will most probably lead to controversial, but stimulating discussions again amongst artists, curators, collectors and visitors.
More on this topic also here: https://www.ubs.com/microsites/together/en/spotlight/is-art-for-you.html. I find the opportunities really exciting.
Chris Frey @ www.chrisfrey.com
#innovation #arttechnology #digital #digitalization #digitalisation #machinelearning #ml #artificialintelligence #al #augmentedreality #ar  #chronicled #artbasel #art