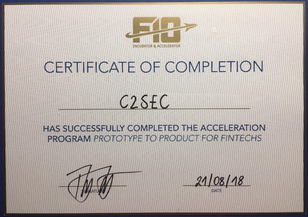 I had the great pleasure to mentor the Seattle/USA based Fintech startup "C2SEC2 throughout 2018 as part of the F10 accelerator program in Zurich.
C2SEC provides an innovative analytics platform, that creates a digital footprint of a company and quantifies cybers risk in financial terms. It does so by combining patented big data, artificial intelligence (AI) and cyber security technologies. With its solution, C2SEC makes cyber risks visible, provides a price tag and gives the C-level an recommendation list how to mitigate those risks. 

Throughout the year the solution evolved steadily and resulted in a fine-tuned value proposition and enriched yet simplified feature set. C2SEC secured an investment from a global venture capitalist and gained a prestigious paying customer.
These achievements are the result of the co-founders' dedication, drive and commitment. I was honoured to advise them on a few questions and provide an executive view to help further shape the solution. I have enjoyed the collaboration and interesting conversations. 
Chris Frey @ www.chrisfrey.com
#innovation #fintech #cyberrisk #digital #digitalization #digitalisation #artificialintelligence #al #c2sec #f10